Celebrating Independence Day
Fourth of July isn't all about barbecues and fireworks. It's also about freedom, liberty and the birthday of our country. Teach your kids about the history of Independence Day by reading books, quotes, poems and other anecdotes.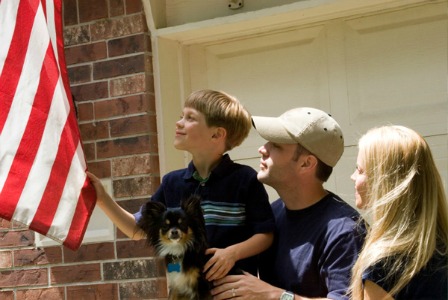 Fourth of July quotes
We hold these truths to be self-evident, that all men are created equal, that they are endowed by their Creator with certain unalienable Rights, that among these are Life, Liberty and the pursuit of Happiness.
~ The Declaration of Independence July 4, 1776
I am apt to believe that it will be celebrated by succeeding generations as the great anniversary festival. It ought to be commemorated as the day of deliverance, by solemn acts of devotion to God Almighty. It ought to be solemnized with pomp and parade, with shows, games, sports, guns, bells, bonfires, and illuminations, from one end of this continent to the other, from this time forward for evermore.
~ John Adams
You have to love a nation that celebrates its independence every July 4, not with a parade of guns, tanks, and soldiers who file by the White House in a show of strength and muscle, but with family picnics where kids throw Frisbees, the potato salad gets iffy, and the flies die from happiness. You may think you have overeaten, but it is patriotism.
~ Erma Bombeck
Freedom quotes
One flag, one land, one heart, one hand, One Nation evermore!
~ Oliver Wendell Holmes
America is much more than a geographical fact. It is a political and moral fact — the first community in which men set out in principle to institutionalize freedom, responsible government, and human equality.
~ Adlai Stevenson
In the truest sense, freedom cannot be bestowed; it must be achieved.
~ Franklin D. Roosevelt
Those who expect to reap the blessings of freedom, must, like men, undergo the fatigue of supporting it.
~ Thomas Paine
Fourth of July poems
I Hear America Singing
By Walt Whitman
I hear America singing, the varied carols I hear,
Those of mechanics, each one singing his as it should be blithe and strong,
The carpenter singing his as he measures his plank or beam,
The mason singing his as he makes ready for work, or leaves off work,
The boatman singing what belongs to him in his boat, the deckhand singing on the steamboat deck,
The shoemaker singing as he sits on his bench, the hatter singing as he stands,
The wood-cutter's song, the ploughboy's on his way in the morning, or at noon intermission or at sundown,
The delicious singing of the mother, or of the young wife at work, or of the girl sewing or washing,
Each singing what belongs to him or her and to none else,
The day what belongs to the day — at night the party of young fellows, robust, friendly,
Singing with open mouths their strong melodious songs.
The Landlord's Tale. Paul Revere's Ride
By Henry Wadsworth Longfellow
Listen, my children, and you shall hear
Of the midnight ride of Paul Revere,
On the eighteenth of April, in Seventy-five;
Hardly a man is now alive
Who remembers that famous day and year.
google.com